Entertaining is one thing, but dazzling your guests with an outdoor party sensation is another. Summer can be the best time of year for outdoor parties. From twinkling lights to patterned tablecloths, every detail counts when it comes to impressing family and friends.
It may feel like a lot of pressure to live up to expectations, but your party can be both simple and elegant with a few easy tips.
Start early
Early is never early enough when it comes to planning a rock-star summer gath­ering. Check to see if you have enough utensils, make sure everything is in place and that there is enough food for your guests. Prepare weeks in advance, if possible, to make sure you have all the materials necessary to throw your dream outdoor party.
Spice up the invitations
The perfect invitations can do three things. First is tell the basics: what, when and where. They can also tell guests what to bring along with them. Of course, invitations should also be appealing to the eye. This is your time to get a little creative and catch guests' attention before the big event.
Show your style
You want your guests to be as comfortable as possible. Make sure to dress tables and chairs with cushions and tablecloths. Mix it up and show off some of your personal flair with bright colors or fancy patterns. It's easy to celebrate summer with styles that bring summer vibes to life.
Light up the party
Brighten up the big day or night with some candles, lanterns or sparkling lights. In case of wind or weather, try to purchase covered candles to increase the chances the flame will stay lit. Make sure everyone can see the hard work you have put into the party.
Less mess meals
No one likes messy meals, especially at a summer party. Put together a menu that isn't stressful on the cook or stressful on your guests to eat. Dropping sauce on a white summer top is a party no-no.
Rain, rain, go away
Always prepare for the worst. If clouds roll in on party day, make sure you're ready. You can simply move the party indoors at the drop of a hat. Tents can also help keep the party going outdoors in case of precipitation.
Brighten it up
It's finally summer and that usually means flowers everywhere. Pick out an arrangement and make it the focal point of each table. The bright colors can draw your guests in and make them want to appreciate the beautiful nature around them.
Make your own games
Give the kids something to do and make it fun. While the adults visit, the little ones need something to keep themselves busy. Whether it's bubbles or water play in the heat, something to mix it up can help keep them occupied.
Jam it out
Keep the music low and cool. There is no need to blast your speakers across the entire yard. Play your favorite jams, but nothing too crazy. The music can really set the mood of the entire party and make or break the atmosphere.
Cool it down
The summer heat is blazing and sometimes being outside can be miserable. Make sure your guests stay comfortable, even in the heat. Lay out handheld fans, lots of water and even some towels. Your guests will want to stay hydrated so they can party on.
Find more summer party tips at eLivingToday.com.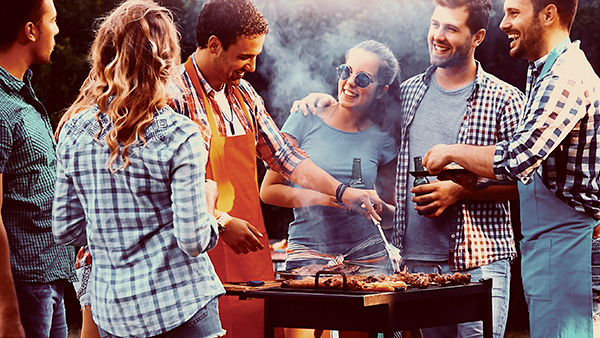 Secrets for Mastering the Grill
With warmer temperatures and sun-filled days arriving, there are few better ways to celebrate the summer season than by firing up the grill. Whether preparing a simple dinner at home or a backyard bash for a crowd, grilling is an easy way to add sear and flavor to your favorite meats and vegetables.
The perfect party, regardless of the number of guests, requires proper preparation, attention to detail and a few handy tricks around the grill to serve up delicious options for all in attendance. However, hosting a great get-together doesn't have to be complicated.
To up your grilling game this summer, try these tips from Chef Rick Bayless of Macy's Culinary Council, a national culinary authority featuring some of the nation's leading chefs.
Use the Right Tools
Aside from fuel, there are several cooking tools that are essential for grilling, including a meat thermometer, long-handled spatula and tongs, grill mitts and a grill brush. Bayless's go-to gadgets are a basket to prepare whole fish and a cast-iron grill grate to achieve marks and depth of flavor.
Get to Know the Fire
When grilling for a party, planning ahead is key, according to Bayless. It can be helpful to know the hot spots of the grill and the distance from grates to flame. Start early if roasting a larger piece of meat, while thinner cuts can be thrown on the grill after the party begins and your guests arrive.
Keep it Simple
Bayless recommends a simple menu that features tried and true flavor profiles nearly everyone loves. For appetizers, he suggests grilling vegetables and adding them to guacamole with bacon. Pair with wedges of grilled pita for dipping, which is an unexpected alternative to typical chips.
For a main entree, Bayless suggests making meat the star and serving up ribeye steaks marinated in garlic, chilies and fresh lime juice. To cap off the meal, his go-to dessert is grilled cornmeal pound cake, served warm and topped with ice cream, berries or whipped cream.
Find more grilling gadgets and helpful cooking videos and tips for your next summer cookout at macys.com.
Photos courtesy of Getty Images
SOURCE:
eLivingToday.com