Admiring the Statue of Liberty up close, hanging 10 in the Pacific Ocean or exploring Europe's most charming cities are just some of the experiences that may rank high on your travel bucket list. Creating that list is just the beginning – the real fun begins when you start making your travel dreams a reality.
Inspiring people to make those getaways happen is the goal of a new effort by Hilton Garden Inn, which is helping plant the seed for travelers to embark on their next great adventure.
"Through the Garden Getaway Tour, we are reminding people of all the exciting possibilities available for their next trip," said Judy Christa-Cathey, vice president of global brand marketing, Hilton Garden Inn & Hampton by Hilton. "Trekking your way through a list of all your favorite places is a great way to feel peaceful and alive, whether you spend your time discovering new places or reconnecting with loved ones."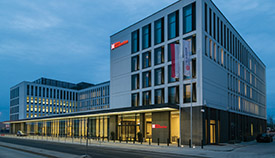 Get on your way to creating the travel experience of your dreams with these tips:
Chart your course. If you haven't already, make a list of all the destinations you hope to see, and post it someplace prominent so you are reminded of your travel goals frequently. You may choose to prioritize your most desirable locations, or simply keep your ideas random so you can seize opportunities when they arise. For example, with its Garden Getaway Tour, Hilton Garden Inn is giving travelers the chance to win a getaway to Hawaii – a great way to check an island excursion off your list. Learn more at HGIGardenGetaway.com.
Be sensitive to the seasons. Be aware that many destinations have peak seasons when the attractions they boast are in top demand. Crowds are heavier and prices are steeper, but on the flip side, there are more options for things to see and do. If avoiding the hustle is your ultimate goal, visiting out of season may be more your ticket.
Check for special dates. Timing your travel to coincide with unique local events is a way to make your visit extra special. The jovial vibe of a fair or festival in your dream destination only adds to the excitement. Check the local calendars for events that are sure to deliver fun eats and lots of quirky, good times.
Book accommodations wisely. Look for a hotel that you can count on to deliver amenities and services that make your experience enjoyable – but know that doing so can be affordable. Options such as Hilton Garden Inn (hgi.com), with nearly 640 hotels worldwide, offer a Satisfaction Promise, along with all the amenities you need to remain comfortable and connected while on-the-go: full service restaurants, free wireless internet access, fully-loaded fitness centers and more.
Document the adventure. Take time to collect photos and mementos representing all the places you visit. If scrapbooking isn't your thing, consider a wall collage in your home office, or devise another way to capture all the memories you create along the way.
Photo courtesy of Getty Images (couple looking at map)