It's not always easy to create meals that are both nutritious and satisfying. Managing intake of added sugar and saturated fat takes effort and planning, but transforming your favorite recipes into more nutritious family meals can be simpler than you imagined.
The nutrient-dense mushroom masterfully bridges that divide, offering rich and meaty flavor while still being fat-free, low-calorie and low-sodium. All mushrooms contain vitamin D at various levels, which helps build strong bones. Additionally, mushrooms are a source of B vitamins, including riboflavin and niacin, which help provide energy by breaking down proteins, fats and carbohydrates.
"Mushrooms are an incredibly versatile ingredient," said Mary Jo Feeney, MS, RDN, nutrition research consultant for the Mushroom Council. "They can be the meaty star of a vegetarian dish or a nutritious complement to burgers and other hearty recipes."
For a healthy weekday lunch, consider building a salad bowl around the earthy mushroom. Pair roasted or marinated mushrooms with crunchy vegetables and nutty grains, beans and pulses, and top with a simple vinaigrette or squeeze of citrus.
For lightened-up versions of classics such as burgers and meatballs, try adopting a culinary technique known as "The Blend." Simply chop any mushroom variety to match the consistency of ground meat, blend the mushrooms into the meat and cook the mushroom-meat blend to complete the recipe. Substituting at least 25 percent of the meat for mushrooms can enhance the taste of your favorite meaty meals, deliver an extra serving of nutrient-rich vegetables and trim calorie and fat intake.
For additional mushroom recipes that incorporate the blending technique, visit mushroominfo.com.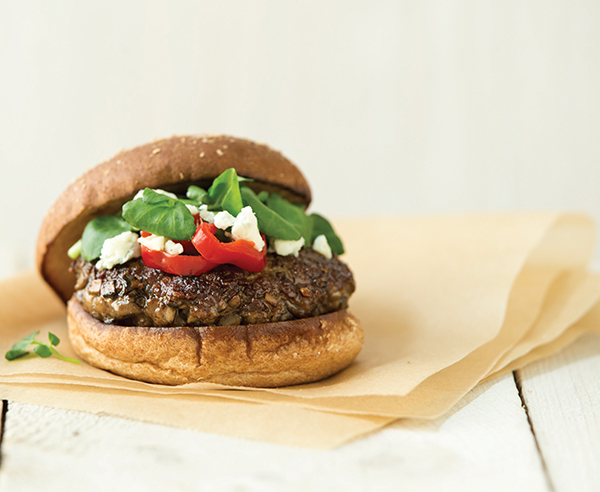 Mighty Mushroom Blended Burger
Prep time: 10 minutes
Cook time: 15 minutes
Servings: 4
1/2 pound any variety mushroom
2 tablespoons olive oil, divided
1 pound ground beef
1/2 teaspoon salt
4 buns
Finely dice mushrooms or gently pulse in food processor.
In skillet, warm 1 tablespoon olive oil on medium-high heat and add mushrooms, cooking 5-7 minutes, or until golden brown. Remove from heat and cool 5 minutes.
Transfer cooled mushrooms to medium bowl. Add ground beef and salt, mixing until combined. Make four patties.
Add remaining olive oil to pan and cook burger patties on medium-high heat until internal temperature reaches at least 160° F. Plate and add desired toppings to bun.
Recommended toppings include: pickled red peppers, crumbled blue cheese and watercress greens.
Marinated Mushroom Bowls with Lentils and Wild Rice
Prep time: 40 minutes
Servings: 4
Mushrooms:
1/4 cup extra-virgin olive oil
2 tablespoons unseasoned rice vinegar
1 tablespoon low-sodium soy sauce
2 teaspoons dark sesame oil
1 teaspoon chili oil
1 green onion, thinly sliced
1 tablespoon chopped fresh cilantro
1 teaspoon sesame seeds
8 ounces crimini mushrooms, thinly sliced
2 cups thinly sliced purple cabbage
1 tablespoon fresh lime juice
pinch of salt
2 teaspoons low-sodium soy sauce
2 cups cooked French lentils
1 cup cooked wild rice
1 cup chopped cucumber
To marinate mushrooms: In shallow bowl, whisk together olive oil, rice vinegar, soy sauce, sesame oil and chili oil.
Stir in green onion, cilantro and sesame seeds. Add mushrooms and gently toss in marinade. Cover and let rest 30 minutes.
Place cabbage in bowl and toss with lime juice and pinch of salt. Set aside.
Stir in 1 teaspoon of soy sauce to both lentils and wild rice.
To serve, arrange equal amount of mushrooms, cabbage, lentils, wild rice and cucumbers in each bowl. Drizzle with remaining marinade and garnish with chopped cilantro, sliced green onions and black sesame seeds. Serve with lime wedges.
Note: Can be served at room temperature or cold.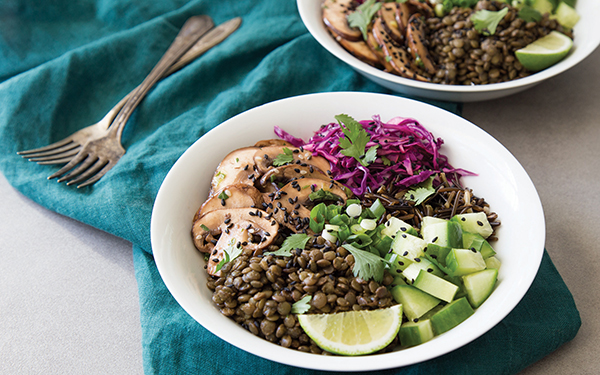 Roasted Mushroom and Wheat Berry Salad with Orange Curry Vinaigrette
Prep time: 10 minutes
Cook time: 15 minutes
Servings: 4
8 ounces white button mushrooms, halved
1 tablespoon extra-virgin olive oil
1/2 teaspoon finely ground sea salt
1/4 teaspoon ground black pepper
2 cups cooked wheat berries, warm
2 green onions, sliced
2 tablespoons dried cranberries, chopped
Dressing:
2 tablespoons extra-virgin olive oil
2 tablespoons fresh orange juice
1 teaspoon curry powder
1/4 teaspoon finely ground sea salt
Heat oven to 400° F.
Place mushrooms on baking sheet. Drizzle with olive oil. Sprinkle with salt and pepper. Toss to coat.
Bake 10 minutes. Carefully stir mushrooms and bake 5 more minutes, until tender.
Transfer mushrooms to medium bowl. Add wheat berries, green onions and cranberries.
In small bowl, whisk together all dressing ingredients.
Pour dressing over salad. Toss to mix all ingredients. Serve warm.
SOURCE:
Mushroom Council