Rules may vary from one event to the next, but whether your favorite team kicks it, runs it or dunks it, sports fans and food always provide a winning combo. Gather your friends for the next big game with a menu that gets everyone revved up for a win.
A lineup filled with starters is just the ticket for a game day watch party or tailgate. Offering a series of finger foods and lighter fare lets your fellow fans grab a quick bite before the game or during a commercial break and continue snacking through the game.
Make no mistake, serving up a lighter menu doesn't mean you need to skimp on quality – just the opposite, in fact. Make every bite count by using exceptional ingredients and introducing unexpected flavors such as the distinctive taste of Jarlsberg Brand Cheese, which has a rich, 60-year Norwegian heritage. Best known as a classic wedge, this mild, mellow and nutty cheese can also be served sliced, shredded and cubed.
Quesadillas are always a hit, and this version combines the best of gooey, melted cheese with bacon and a deliciously tangy salsa for a lively burst of fresh flavor. Then keep the mouthwatering cheese and bacon combos coming with a whole new take on grilled kebabs.
No game day is complete without pizza, and this one scores big with its unexpected blend of flavors for a pie that is smoky and tangy, sweet and savory, and briny and creamy all at once. Then round out your menu with these easy sliders that are big on flavor and small on prep time.
Find more ideas to liven up your game day menu at jarlsberg.com.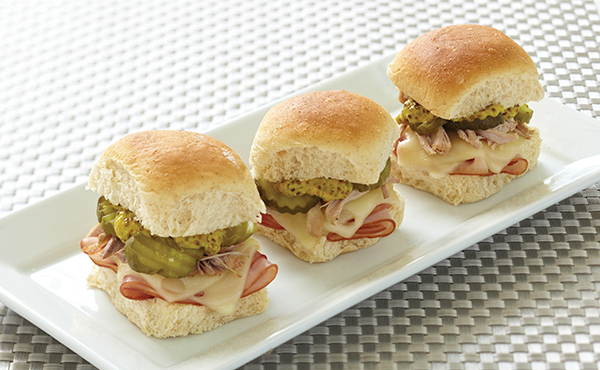 Hawaiian Sliders with Cheese, Ham and Pork
Servings: 3
3 Hawaiian bread slider buns
1 cup pulled pork
3 slices ham
3 slices Jarlsberg cheese
sliced pickles
Dijon mustard, to taste
Heat oven to 350° F.
Separate buns and layer pulled pork, sliced ham and cheese. Place sliders on oven-safe tray and bake about 10 minutes, or until cheese melts. Remove from oven and gently remove top bun. Add pickles and mustard before serving.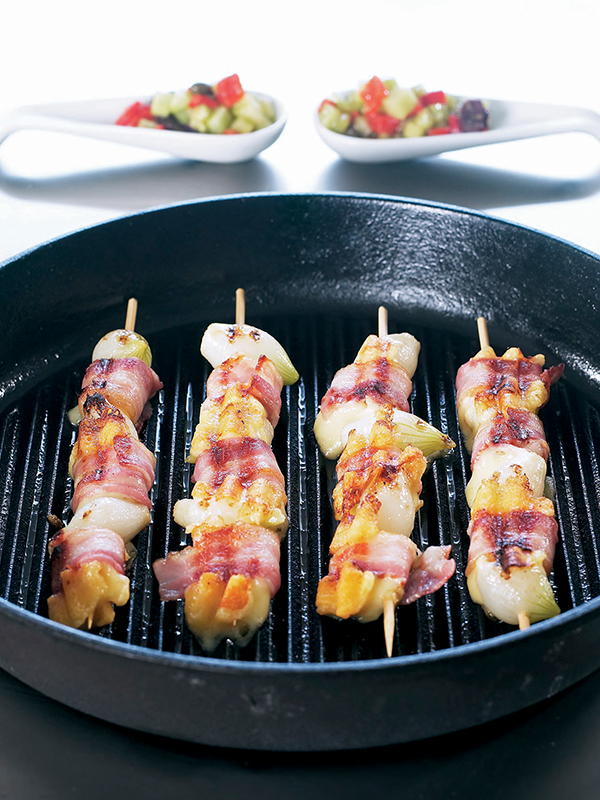 Cheese and Bacon Kebabs
Servings: 4
18 slices bacon
2 1/2 cups Jarlsberg cheese, cubed
18 pearl onions
12 long skewers
Relish:
1/4 cup roasted bell peppers
1 1/3 tablespoons capers
2 2/3 tablespoons olives
1/4 cup cucumber
3 1/3 ounces olive oil
2 tablespoons lemon juice and grated zest
salt
pepper
Cut bacon slices in half and wrap around cheese cubes. Place cheese cubes and pearl onions on each skewer, alternating ingredients. Roast in pan or on grill 2-3 minutes on each side.
To make relish, chop peppers, capers, olives and cucumber, and mix with olive oil, lemon juice and zest. Season with salt and pepper.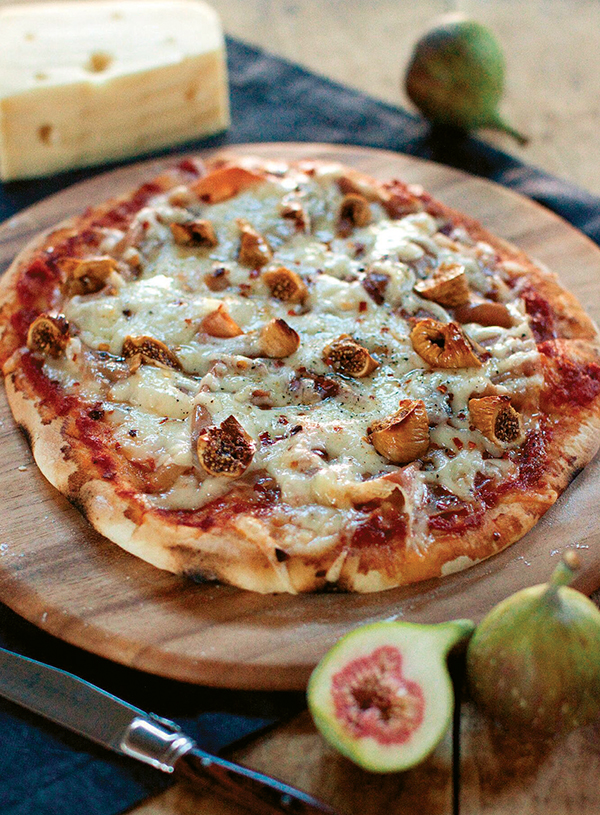 Grilled Pizza with Cheese, Prosciutto and Figs
Servings: 4
2 cups pizza or tomato sauce
4 1/2 cups pizza dough
flour, for rolling
3 1/2 cups Jarlsberg cheese, coarsely grated
2 1/2 cups thinly sliced prosciutto
8 dried figs, each cut into six wedges
dried red pepper flakes
black pepper
Heat grill and warm pizza sauce.
Divide dough into desired number of pizzas. On floured surface, roll dough into long, thin ovals and spread with sauce. Sprinkle light layer of cheese over sauce. Add layer of prosciutto and a second layer of cheese. Dot with fig pieces then season with red pepper flakes and pepper.
Reduce grill heat, slide pizzas onto grill and close lid. Cook 3-5 minutes, or until crust is lightly charred and cheese is melted.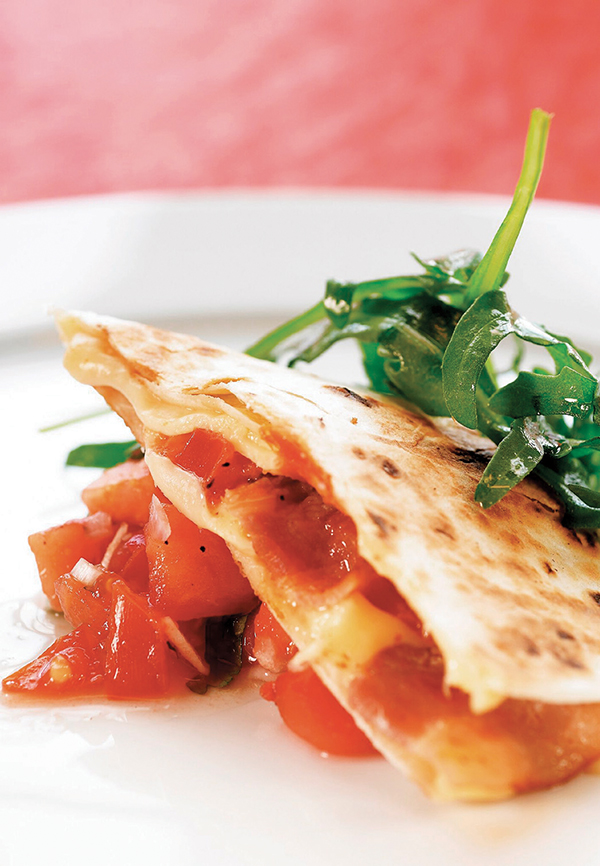 Cheese Quesadillas
Servings: 4
4 slices thick slab bacon
1 small chili pepper
4 medium tomatoes
1 small shallot
1 clove garlic
1 tablespoon coriander or cumin
salt, to taste
pepper, to taste
1 small lime (juice and zest)
6 slices Jarlsberg Original or Hickory Smoked cheese
2 large tortillas
Fry bacon, drain and chop.
To make salsa, remove seeds from chili pepper and finely dice. Chop tomatoes then dice shallot and garlic clove. Combine pepper, tomatoes, shallot and garlic with lime juice, coriander, salt and pepper, to taste.
Divide cheese slices and bacon on one half of each tortilla, top with 1/4 cup salsa and fold tortilla over, pressing down to close. In medium-hot, lightly oiled pan, toast tortillas about 1 minute on each side.
Cut each tortilla in half and serve with remaining salsa on the side, or combine salsa with black beans and fresh chopped cilantro to make a side salad.
SOURCE:
Jarlsberg Cheese