Classic, collectible and educational toys are among the hottest children's gifts this year, according to the Toy Industry Association.
There's one toy that covers all three categories: the Hess Toy Truck, an annual holiday tradition for more than 50 years.
The Hess Toy Truck is one of the most in-demand and popular toys every holiday season, routinely selling out year after year. Continuing this tradition, Hess has introduced a first-of-its-kind to the fleet – the Hess Dump Truck and Loader.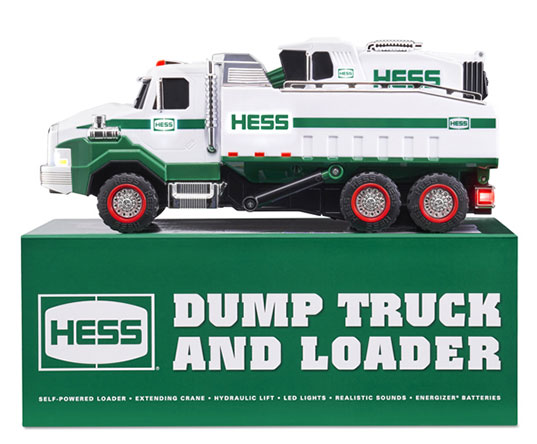 This year, along with the toy truck, Hess is offering a STEM curriculum developed in partnership with Baylor College of Medicine. The curriculum, which is available via free download, includes eight lessons featuring the 2017 Hess Toy Truck to help kids get a better grasp on basic concepts of math and science, including gravity, friction, leverage and velocity.
What started out in 1964 as a thank you to loyal gas station customers up and down the East Coast is now a 53-year-strong, top-selling holiday toy across the country boasting sold-out status before Christmas each holiday season.
"For many families, the Hess Toy Truck is a staple of the holiday season to this day," said Justin Mayer, Hess Toy Truck General Manager. "We hear so many great stories about family traditions that include the Hess Toy Truck, and we're delighted to help create warm holiday memories for generations. We particularly enjoy seeing families bring out their older models to play with the newest one they unwrapped that Christmas morning."
Each year, the latest toy truck offers new features and with the newest model, that's as true as ever. With more than 350 parts, this year's model is heavier and more elaborate than any prior truck in the fleet.
The 2017 Hess Dump Truck and Loader is a powerful partnership of heavy-duty earth movers. With more than 30 LED lights plus realistic sounds, this oversized dump truck and two-way motorized, track-driven loader are a versatile team, ready to tackle the toughest jobs.
Boldly designed with a solid green base, white upper body and green side stripes, the Hess Dump Truck features an elongated hauling bed on a dual-axle rear chassis is custom-designed for its work partner. An innovative fold-down tailgate that doubles as a hidden pull-out ramp lets the loader drive right up into position.
The 2017 Hess Dump Truck and Loader is sold exclusively at hesstoytruck.com for $33.99 plus tax, and includes five Energizer batteries and free standard shipping.
SOURCE:
Hess Toy Truck