Once the structural elements and hardscape features of your outdoor living space are in place, it's time to turn attention to the details that really bring the area to life.
Vibrant textiles like cushions, pillows and rugs can all soften the look of a space while adding colorful charm, but another effective place where you can introduce plenty of character is the landscaping.
Often, homeowners treat the landscape and the architectural components of an outdoor living space as distinct design elements. Making the landscape seamlessly integrate into the area not only transforms the way the space looks, it enhances the outdoor ambiance.
Create Climate Control
One of the first considerations is the functional benefits landscaping can bring for needs such as shade. Quaking aspens and birch trees are beautiful and fast-growing options, or for a more traditional look, some maple trees grow quickly and certain varieties create a dazzling display of color. Another popular option is the Bradford pear, but this tree can be brittle and is prone to splitting so choose it with care. Flowering trees such as the tulip tree or dogwood are other fast-growing options. If a tree is impractical for your space or simply not your style, you might instead consider large flowering bushes, such as the lilac or Rose of Sharon.
Keep Prying Eyes Out
When it comes to privacy, there is also a multitude of options. Ornamental grasses come in a surprising array of colors and looks, and many grow high enough to shield a private lounge or eating area. Alternatively, you could consider a lush climbing vine paired with a trellis. Dwarf trees and shrubs also lend privacy when planted in close proximity. Another stylish option is to put oversized planters into play. Fill them with the vegetation of your choice for an instant eye block topped with live plants. For an outdoor kitchen, make these vessels do double-duty by making them the basis for your herb garden.
Set Boundaries
If your outdoor space doesn't have a clearly defined perimeter, you can easily introduce borders using a line of shrubbery or bushes. Low-growing options can help maintain an open feel while adding some definition to the area. Creating specific boundaries not only lends an aesthetic touch, it can help guide traffic patterns; for example, encouraging visitors to keep to a stone path.
Go Low Maintenance
If you're leery of adding too much work with plants that need frequent care and attention, there are several options that require little effort. Succulents are a great way to add texture, interest and color to a planter or table-top pot. For more color, opt for low-maintenance perennials that require little water. After your initial planting and fertilizing, you'll need to water during dry spells in the summer, but for the most part, they'll require little extra attention through the year until it's time to trim them back for winter.
Consult with experts at your local nursery or garden center for advice on the trees and plants that work best in your climate zone, and find more tips for creating your ideal outdoor living space at eLivingToday.com.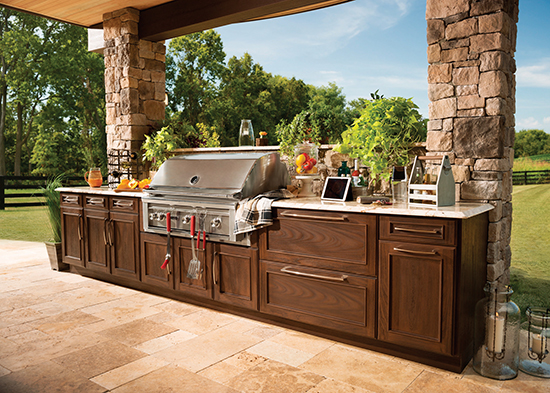 Enhance Your Outdoor Living Space
No matter the season or the region, outdoor living is more popular than ever, as homeowners look to "bring the indoors out" and create spaces that are true extensions of the home. The newest designs in outdoor living spaces do not simply feature the look of the indoors, but the functionality as well.
Regardless of the size of your deck – or budget – these simple tips from the experts at Trex can add interior function to your outdoor oasis:
Absolute Al Fresco
While grilling and al fresco dining are longtime hallmarks of backyard entertaining, outdoor kitchens are now finally living up to their name. From storing seat cushions to keeping drinks cold, today's outdoor kitchen accessories can make outdoor spaces look as put-together as the rest of the home. Among the newest advancements is the Trex Outdoor Kitchens collection, which features outdoor cabinetry and functional elements such as trash bins, ice chests and storage drawers that eliminate the need for back-and-forth trips inside the home.
Railing Redefined
Even railings have taken on a more functional role in today's backyards. One of the most popular trends is "cocktail railing," which provides a flat surface for drinks and plates. By using a matching deck board to create a shelf for the top rail, you can achieve a look that complements your home's deck while making great use of space.
Lights, Please
Lighting is another "bright" idea for adding versatility to the outdoors. Lighting systems that incorporate deck lighting and other exterior lighting work together to create ambiance that can be adjusted for any setting. By choosing which outdoor elements to highlight, it's easy to change the look of an outdoor living space without moving any furniture.
Material Matters
Just because people are spending more time on their decks doesn't mean they're willing to put in extra hours for maintenance. Wood alternatives, particularly wood-plastic composites, are especially popular due to their low-maintenance features. Unlike wood, composite decking such as Trex Transcend resists fading, staining, scratching and mold – and won't rot, warp, crack or splinter. No sanding, staining or painting is required, and food and drink spills wash off easily with soap and water. The latest generation of composite decking also features wood-grain patterns and rich, saturated colors that look and feel more natural than ever before.
For more information and outdoor living inspiration, visit trex.com.
Photo courtesy of Getty Images (patio with orange cushion chairs)
SOURCE:
eLivingToday.com