Italian cuisine has influenced food culture around the world, and is often viewed as an art form that includes the freshest, most authentic ingredients, prepared with passion and served with love to family and friends. Mealtime is a celebration, captured by the classic Italian proverb, "You never grow old at the table."
Americans have celebrated Italian food for decades. Classic Italian dishes have been joined by refreshing, modern twists on tradition that help keep the love affair alive and well with this simple, colorful, flavorful, healthy cuisine.
Born in Lucca, Italy, in 1867, Filippo Berio Olive Oil celebrates 150 years of culinary passion and artistry by combining traditional ingredients in contemporary, unexpected recipes that can help you savor the moment.
For more recipe creations, visit FilippoBerio.com/recipes.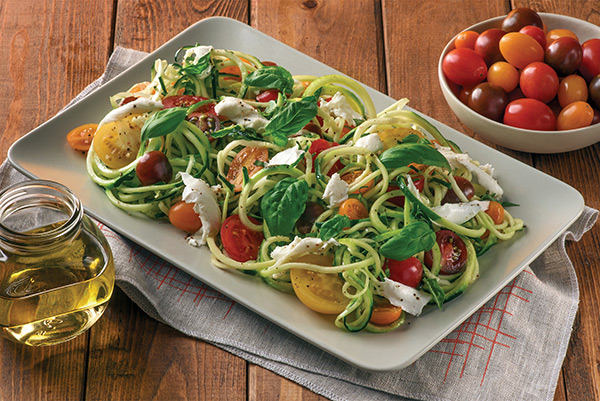 Caprese Zucchini Noodle Bowl
Prep time: 15 minutes
Total time: 25 minutes
Servings: 4
4 medium zucchini, spiralized (instructions at right)
1/4 cup Filippo Berio Delicato Extra Virgin Olive Oil
2 tablespoons white balsamic vinegar
1/2 teaspoon salt
1/4 teaspoon freshly ground pepper
1 1/2 cups heirloom cherry tomatoes, halved
1/4 cup packed chopped fresh basil
1 ball (8 ounces) burrata cheese, torn
Toss together zucchini, oil, vinegar, salt and pepper; let stand 10 minutes, or until zucchini starts to soften.
Gently stir in tomatoes and basil. Divide salad among four bowls. Top with cheese.
How to Spiralize Zucchini
Use zucchini at least 2 inches in diameter for best results. Trim ends of zucchini.
Place spiralizer on smooth surface, such as a countertop, pushing down to adhere suction cups onto surface and secure machine for spiralizing.
Place desired blade into spiralizer. Turn zucchini into long strands, trimming with clean kitchen shears as needed.
SOURCE:
Filippo Berio
Easily make your favorite cakes and multiple batches of cookie dough with the 5-quart stainless steel mixing bowl with comfortable handle that the KitchenAid Artisan Series Mixer has to offer. With 10 speeds, the standmixer will quickly become your kitchen's culinary center as you mix, knead and whip ingredients with ease. And for even more versatility, the power hub fits optional attachments from food grinders to pasta makers and more.