The arrival of milder temperatures means dining al fresco, hosting neighborhood cookouts and enjoying intimate cocktail parties under the stars. When creating a backyard oasis, make your space both inviting and able to withstand the wear and tear of warm-weather fun.
The outdoor living experts at Trex, the world's largest manufacturer of wood-alternative decking and railing, suggest the following tips:
Check your deck
Nothing spoils a deck party like a nasty splinter or a trip over an uneven board. If your deck needs a "face lift," consider replacing old, rotting or warping boards with wood-alternative decking that combines superior durability and low-maintenance with long-lasting good looks.
Unlike wood, high-performance composites resist fading, staining, scratching and mold – and won't rot, warp, crack or splinter. Upkeep is hassle-free with no sanding, staining or painting required and food and drink spills wash off easily with soap and water.
"Who wants an outdoor space that they have to spend more time maintaining than enjoying? For me, composite decking is a no-brainer," said celebrity deck designer Paul Lafrance of HGTV's acclaimed "Decked Out" series. "It delivers all the beauty and aesthetics of wood without the back-breaking and time-consuming upkeep."
Create zones
Maximize the flow of your outdoor living space by creating different entertainment and comfort "zones." Establish separate areas for cooking, eating and socializing, just as you have inside your home. Structures like pergolas, trellises, or even tall potted plants, can help separate and define different settings.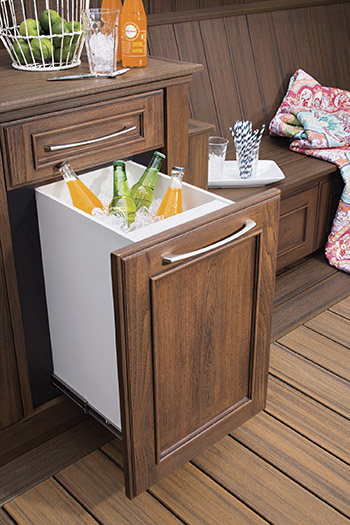 Food and drink stations – arguably the most crucial element of a party – should be prominent and accessible to guests. And don't forget a kid-friendly zone with games, such as corn hole, badminton and ladder ball, and other activities to help keep children entertained.
Frame your space
While railings provide an obvious and necessary safety function, they also serve an important aesthetic role by creating a decorative frame for outdoor spaces. Additionally, the right railing can maximize scenic views or enhance the privacy of an outdoor setting. To help simplify the selection process, Trex offers a Decking and Railing Duos online tool, which delivers customized couplings based on consumer preferences and proven, designer-selected pairings. The tool even allows users to download complete ordering guides and materials lists.
Let there be light
The right lighting can take any outdoor space from invisible to inviting. Adding dimmable LED lighting to railings and stairs not only adds atmosphere, but also enhances security and extends the time you can spend enjoying your outdoor living space. For maximum ambiance and safety, focus on illuminating entryways, paths, steps, railings and specific task areas, such as an outdoor kitchen or bar.
Stock up on storage
Make entertaining a breeze with built-in storage to keep supplies organized and at-hand. The Trex Outdoor Storage collection offers ingenious storage solutions such as a hidden ice drawer that chills drinks and snacks so hosts can spend time enjoying the festivities rather than running inside to replenish what's needed outside.
Don't forget the finishing touches
Customize your outdoor living space to make guests feel truly welcome. Infuse charm and personal style with accessories such as vibrant weather- and stain-resistant throw pillows and cushions. Opt for elegant outdoor tableware over flimsy paper and plastic, and integrate artistic accents and accessories to give the space the look and feel of an outdoor great room.
"Thanks to advances in all-weather materials, furnishings and accessories, you can outfit an outdoor living space in much the same way that you would any room in the home," Lafrance said.
For more outdoor living ideas and inspiration, visit Trex.com.