Enjoy an organic twist on seasonal sweets
Holidays are typically a joyous time filled with gatherings of friends and family, including time spent baking and enjoying seasonal dishes, all while making fond memories. Pumpkin has become a popular holiday ingredient, making it easy to create pumpkin-centric desserts, perfect for entertaining.
This season, try utilizing organic ingredients in holiday dishes as a simple way to add a better-for-you twist to your family's favorite dishes – including baked goods and other desserts. The
O Organics product line, exclusive to the Albertsons Companies family of stores including Albertsons, Safeway, ACME Markets, Jewel-Osco, Pavilions, Randalls, Shaw's, Star Market, Tom Thumb and Vons, includes 100 percent pure organic pumpkin, as well as more than 400 additional USDA-certified, non-GMO items for every occasion, from fresh fruits and vegetables to wholesome dairy, meats, baking ingredients, cereals, snacks and more.
When it comes to the dessert table, try a new twist on pumpkin with these seasonal sweets featuring high-quality, organic ingredients. Use the online store locator to find a store near you and discover more ways to add organic foods to your family's meals.
1. Organic Pumpkin Pie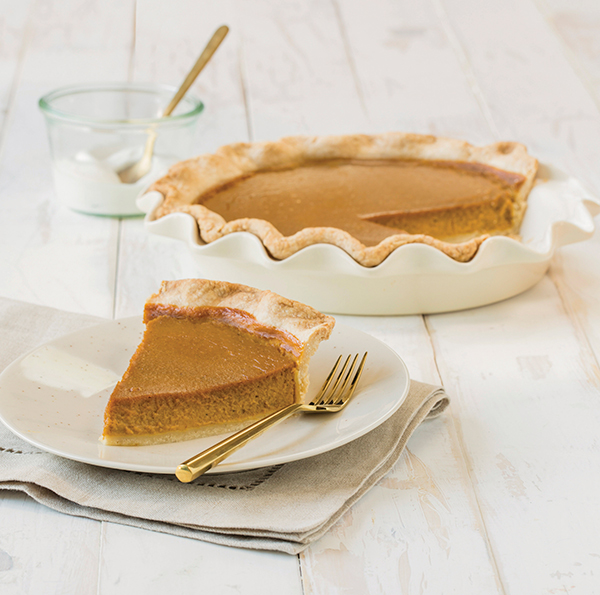 Prep time: 15 minutes
Total time: 1 hour, 25 minutes
Servings: 8
Crust:
1 1/2    cups O Organics all-purpose flour
8          tablespoons unsalted butter, slightly softened
1          teaspoon kosher salt
1          tablespoon O Organics granulated sugar
cold water, as needed (about 4-6 tablespoons)
Filling:
1          can (15 ounces) O Organics 100 percent pure pumpkin
1/2       cup whole milk
1/2       cup pure maple syrup
2          large eggs
1          teaspoon O Organics ground cinnamon
1/4       teaspoon ground nutmeg
1/2       teaspoon O Organics ground ginger
To make crust: Place flour, butter, salt, sugar and water in large bowl. Using fingers, mix ingredients together until dough ball forms. Flatten into 1-inch thick disk and wrap in parchment paper. Let rest 1 hour in refrigerator before rolling out.
Heat oven to 375° F. Roll out dough and press into pie plate.
To make filling: In medium bowl, whisk together pumpkin, milk, syrup, eggs, cinnamon, nutmeg and ginger. Pour into pie plate.
Bake 40-55 minutes until filling is slightly jiggly but set. Let cool 4 hours. Serve.
Notes: Using measuring cup as scoop for flour actually overfills it. Instead, fill cup lightly with spoon and level off top with butter knife. Do not roll dough all the way to edge to keep dough from sticking to surface. Keep surface and rolling pin floured and continue turning dough. Pie dough can be made and frozen ahead of time for easy use – just thaw in refrigerator before using. It can keep up to 6 months in freezer.