One of the challenges facing small businesses today is trying to deliver the same customer experience as larger competitors.
As technology advances and takes on an ever-growing role, small businesses can tap new innovations to better communicate with customers, save money and simplify operations.
As small business owners look to transform digitally, they face a number of options, from upgrading their technology to optimize shipping operations and decrease costs to adopting digital marketing tactics to better understand and target their customers. While it can be difficult for a small business that is well-established using analog processes to switch to digital, the key is to start with the final objective in mind; in other words, begin by defining your end goal. Once you've determined the desired outcome of digitizing your business, these tips can help you establish a strategy that can benefit both your business performance and customer experience.
Reach customers through digital marketing
An important step in digital transformation is revisiting how you attract and interact with current and prospective customers, who are increasingly turning to a combination of physical and digital channels to engage with brands and businesses. If you think of digital marketing and email or online ads, you're on the right track, but effective marketing requires more than simply hitting send on an email or counting clicks on an ad. Email marketing should be focused on providing helpful, relevant content to your target audience based on its preferences. Recipients can come to appreciate your insights on industry news and helpful information, so your sales pitches are likely to be more warmly received.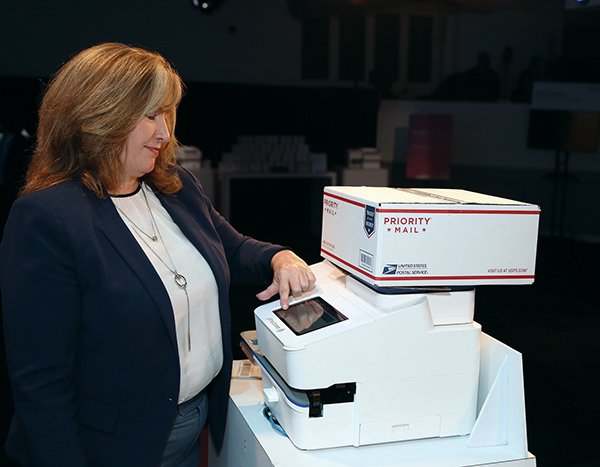 Optimize operations through the cloud
As technology evolves, more tasks can be handled online and more traditional analog devices are connected to the internet and the cloud. Adopting the use of these digitally connected devices can not only make fulfilling tasks easier and more efficient, but also track patterns and collect data that brings new value to small business owners. For example, with a surge in parcel volumes year over year (thanks, in part, to a sustained e-commerce growth), according to the Pitney Bowes Parcel Shipping Index, consider a cloud-enabled shipping solution, such as the SendPro C-Series , to simplify sending operations. This digital multi-carrier platform leverages the latest cloud technology to enable offices of all sizes to easily select the ideal sending option for every parcel or letter, while also providing full tracking information and delivering savings.
"The SendPro C-Series is designed to take the guesswork out of shipping and mailing," said Jason Dies, executive vice president and president, Pitney Bowes SMB Solutions. "These digitally connected sending devices allow users to better manage their sending operations on one platform, providing the confidence that they selected the right carrier and class of service for each expedited envelope and package, track all shipments from one dashboard and provide consolidated visibility and control of postal and carrier expenses. Plus, the open platform allows developers to create new applications specific for the needs of small business owners."
Make decisions based on analytics
Beyond providing efficiency and simplicity, connected and cloud-enabled devices can generate and track valuable data, which can, in turn, be analyzed and used to make important business decisions. In a business environment dominated by ever-changing consumer preferences, data-driven insights are key to serving the needs and securing the business of today's hyper-connected consumers. By utilizing data and analytics, your business can be better equipped to deliver superior customer experiences, support product and service innovation, and optimize business processes.
Use mobile to communicate with customers
Even the smallest of businesses can take steps toward better mobile communication, such as ensuring their websites are mobile-friendly and responsive to different device types. This is especially important as mobile usage continues to climb in the United States, and consumers increasingly rely on mobile devices for information to guide purchase decisions. Your business can also capitalize on location intelligence capabilities to deliver timely coupons and promotions to customers in the immediate vicinity.
Find more tips for transforming your business for the digital age at pitneybowes.com/us/digital.
SOURCE:
Pitney Bowes