One element that makes the holidays so special is spending quality time with loved ones.
When hosting, it is your chance to put smiles on your guests' faces with tasty foods for everyone to enjoy. Spend less time in the kitchen preparing and more time with your guests with small changes and simple shortcuts that may be all it takes to bring ease to the holidays and be the host with the most (fun, that is).
Reinvent old favorites. Take your holiday appetizers and small bites from ordinary to exceptional with novel takes on your favorite recipes. For example, potato skins are a classic crowd-pleasing appetizer and easy-to-make snack. Give them a creative twist by stuffing potato halves with pepperoni and shredded mozzarella for a flavorful new way to enjoy a timeless favorite.
Make it easy. Have fun preparing a meal for guests and save time in the kitchen when using ingredients like fully cooked Armour Original Meatballs. Flavor and substance are key to any great meal, especially when feeding a crowd. From appetizers to everyday dishes, frozen meatballs make it simple to create crowd-pleasing meals, cutting down on the preparation time so you can get back to fun and entertaining. Be the hero at your next holiday gathering with zesty Meatball Baked Ziti, which can be prepared and ready to serve in next-to-no time.
Find more guest-ready recipes to share this holiday season at ArmourMeats.com.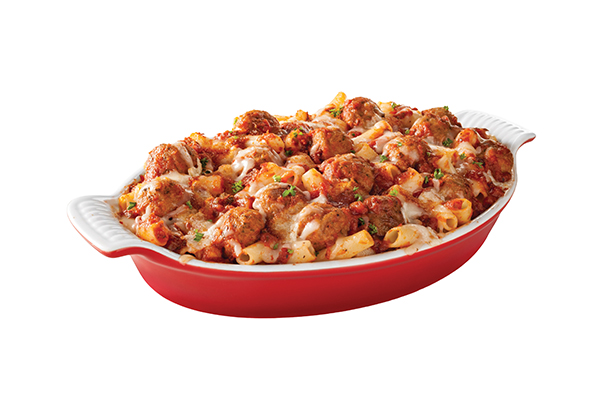 Meatball Baked Ziti
16        ounces ziti pasta, uncooked
1          package (14 ounces) Armour Italian Style or Original Meatballs, thawed
1          jar (24 ounces) marinara sauce
2          cups grated mozzarella or provolone cheese
Heat oven to 375° F. Cook pasta according to package directions. Cut meatballs in half.
In large skillet, combine marinara sauce and meatballs; bring mixture to boil over high heat. Reduce heat to medium-low; stir well, cover and simmer 5-6 minutes, or until meatballs are heated through, stirring once.
Stir in drained pasta; mix well. Transfer half of mixture to 8-inch baking dish; top with 1 cup cheese. Repeat layering with remaining pasta mixture and cheese.
Bake 20-25 minutes, or until mixture is heated through and cheese is melted.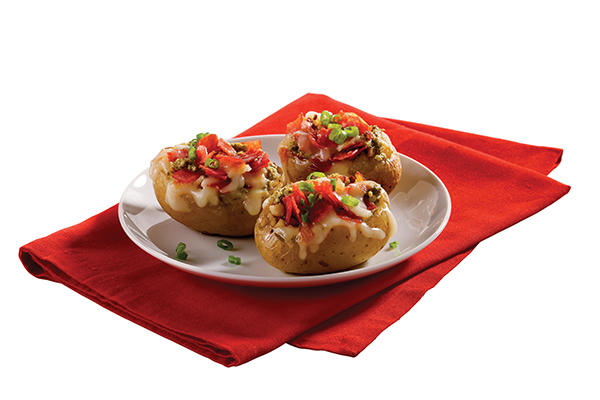 Stuffed Pepperoni Potato Skins
10        baby potatoes
2 1/2    teaspoons minced garlic
5          teaspoons pesto
20        teaspoons mozzarella cheese
10        slices small Armour Pepperoni, diced
Heat oven to 350° F. Line sheet pan with foil. Set aside.
Rinse potatoes and place in microwave on high 3 minutes.
Remove potatoes from microwave and let cool 5 minutes. Slice potatoes in half lengthwise.  With spoon, scoop out center of each potato to make boat.
Fill each potato boat by evenly stuffing with minced garlic, pesto, cheese and pepperoni.
Place potato skins on sheet pan and bake 10 minutes, or until cheese is bubbly. Remove skins from oven and let cool before serving.
SOURCE:
Armour