Adopting healthier eating habits doesn't have to mean resorting to tasteless food. In fact, you may surprise yourself by enjoying your new lineup of healthy, wholesome meals even more than the calorie-laden dishes you covet.
These recipes are just as big on flavor as they are good for you, so you can savor every last bite all day long. Take time to start off the day with a unique twist on a nutritious smoothie by enjoying it in a bowl. Then at lunch, rely on unexpected ingredients like ripe, juicy berries and beans to transform a ho-hum salad into a true culinary delight. Round out the day with a sensible dinner that gives you a healthy serving of protein and veggies seasoned to simple perfection.
Find more nutritious recipes that make it easy to enjoy eating right at culinary.net.
Manageable Main Course
Once the dinner bell rings and it's time to focus on the night's main course without overshooting a calorie count, aim for a tasty yet healthy main dish like this recipe for Chicken and Vegetables. Combining skinless chicken thighs with frozen vegetables is a simple way to keep nutrition at the forefront while still enjoying a comforting dinner. Find more health-conscious recipes at health.gov.
Chicken and Vegetables
Recipe courtesy of the USDA
Servings: 4
1 1/2 tablespoons margarine
1 teaspoon garlic powder
1/2 cup onions, chopped
1 pound chicken thighs (4 ounces each), boneless and skinless
1 package (10 ounces) cut green beans, frozen
1/4 teaspoon pepper
In heavy skillet, melt margarine. Add garlic and onions; stir until blended. Cook over medium heat, until tender, about 5 minutes. Remove from skillet.
Place chicken in skillet. Cook over medium heat until chicken is thoroughly done and no longer pink in color, about 12 minutes. Remove chicken from skillet; keep warm.
Place green beans, pepper and cooked onions in same skillet. Cover and cook over medium-low heat until beans are tender, about 5 minutes.
Add chicken to vegetable mixture. Continue cooking, stirring occasionally, until heated through, about 3 minutes.
Note: To remove bone from bone-in chicken thighs: Place chicken on cutting board. Remove skin from thighs. Turn chicken thighs over. Cut around bone and remove.
A Smooth Way to Start Your Day
A wealth of research shows that starting each morning with a nutritious breakfast delivers benefits throughout the day. If you're pressed for time or simply need to mix up your morning routine, put a fresh spin on a time-saving favorite by making a smoothie bowl.
According to registered dietitian and nutritionist Carolyn Brown, people love to eat with a spoon and find it more mentally and physically satisfying. The same goes for adding texture, such as a crunchy topping like goodnessknows snack squares. These satisfying, gluten free snacks are crafted with the goodness of whole nuts, real fruits and toasted oats, with no artificial colors, flavors or sweeteners. Divided into four snackable squares per serving and nestled in a layer made with dark chocolate, one individual, two-bite square contains only about 40 calories.
Find out more about how doing a little good for yourself can go a long way at goodnessknows.com.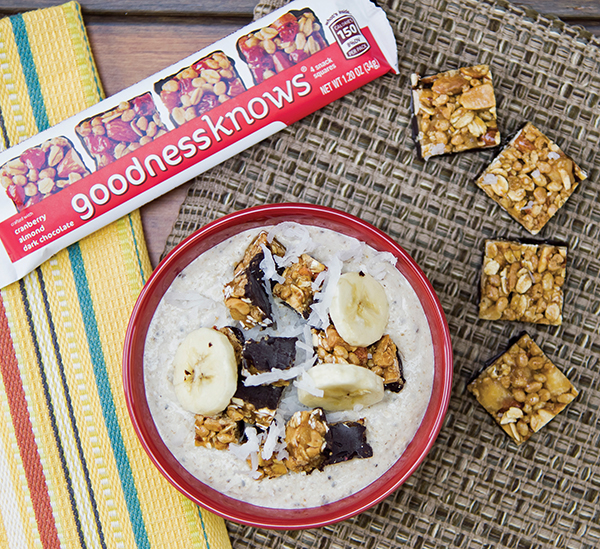 Oatmeal Banana Smoothie Bowl
Recipe courtesy of Alison Ray of So Chic Life
2/3 cup rolled oats
1/2 cup full fat coconut milk
1 tablespoon chia seeds
1/2 teaspoon vanilla extract
sea salt
1/2 cup almond milk, 2 percent milk or soy milk
1 small banana (or 1/2 cup unsweetened applesauce)
goodnessknows snack squares (any flavor)
grated coconut, to taste
In small bowl, mix together oats, coconut milk, chia seeds, vanilla and pinch of salt. Cover and place in refrigerator at least 30 minutes, or overnight to help flavors soak in.
In blender or food processor, combine oat mixture with remaining milk and half of the banana (or applesauce). Blend until smooth and creamy.
Pour creamy oats into bowl, and top with snack squares, coconut and slices of remaining banana half.
Tip: To thin consistency, use additional milk.
Salad Sweetness
The sharpness of pecorino cheese, combined with peppery arugula, complements the velvety texture of fava beans in this salad. With nutrition on your mind, a salad is always a go-to choice for a lunch that will please your taste buds without forcing you to sacrifice health goals. Find more nutritional recipes including tasty strawberries at californiastrawberries.com.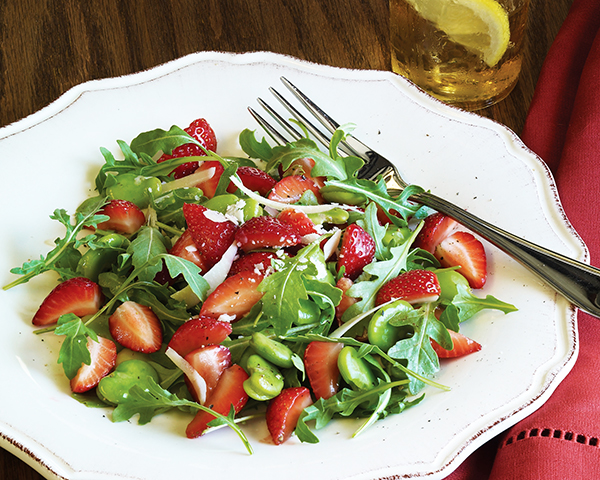 Strawberry and Fava Bean Salad with Pecorino
Recipe courtesy of California Strawberry Commission
Servings: 6
2 quarts water
kosher or sea salt
2 cups shelled fresh fava beans (about 2 pounds in pods)
2 tablespoons extra-virgin olive oil
2 tablespoons balsamic vinegar
2 tablespoons lemon juice
2 cups fresh California strawberries, stemmed and quartered
coarsely ground black pepper
3 cups rucola (wild arugula)
pecorino cheese
In large pot over high heat, bring water to boil.
Add pinch of salt and fava beans. Boil 1 minute; drain and cool fava beans in ice water.
Drain fava beans; pinch one end and slip off tough skins of larger beans (Note: skin on small beans is not usually tough). Discard skins.
Whisk together olive oil, vinegar and lemon juice.
In large bowl, season fava beans and strawberries with salt and pepper. Add rucola and enough dressing mixture to coat salad lightly. Mix gently and spoon onto platter or six salad plates.
With vegetable peeler, shave cheese generously over salad. Grind more pepper on top.
Photo courtesy of Getty Images (chicken and vegetables photo)
SOURCE:
Culinary.net