With everything that goes into creating a full holiday menu for guests of different ages and palates, taking on that task can be a challenge for any host.
However, simple recipes that please the masses can help make life easier for home chefs.
From the main dish all the way to dessert, plus the drinks in-between, put these recipes to the test to help make your holiday gathering a breeze. Put your adult guests at ease with a cranberry-flavored cocktail, followed by a main course made sweet thanks to this turkey brine. As things come to a close, finish off any leftover appetites with a quick cookie recipe.
To help make your holiday hosting easier, find more tips and recipes at Culinary.net.
Dessert in a Snap
After spending hours preparing appetizers, drinks and the main course for holiday get-togethers, many hosts are ready to call it quits in the kitchen. However, that won't stop guests from getting those late cravings for a tasty treat. If you're looking for a reprieve from being the lead chef, go for a quick dessert like these Gingersnap cookies, which take just 10 minutes to bake and can leave hosts with more time to mingle. For more quick, nutritious recipes for every meal, visit AICR.org.
1. Gingersnaps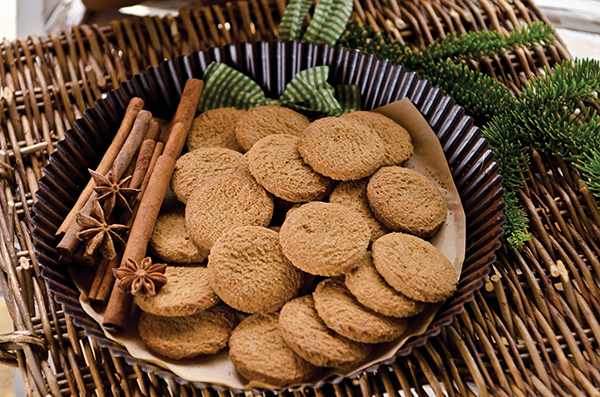 Reprinted with permission from the American Institute for Cancer Research
Yield: 24 cookies
3/4       cup unbleached all-purpose flour
1/2       cup whole-wheat pastry flour
1/2       teaspoon baking soda
1 1/4    teaspoons ground ginger
1/2       teaspoon ground cinnamon
1/8       teaspoon freshly ground black pepper
1/4       teaspoon salt
1/3       cup dairy-free butter shortening sticks
1/2       cup sugar, plus 2 tablespoons, divided
2          tablespoons unsulphured molasses
1          large egg white
Glaze (optional):
1/3       cup confectioners' sugar
2          teaspoons fresh lemon juice
Heat oven to 350° F.
In mixing bowl, whisk flours, baking soda, ginger, cinnamon, pepper and salt.
In separate bowl, use electric mixer on medium-high speed to beat shortening sticks with 1/2 cup sugar 2 minutes. Add molasses and egg white; beat 3 minutes. Set mixer on low speed and mix in dry ingredients to combine. Don't over-mix. Batter will form soft ball.
Place remaining sugar in wide, shallow bowl. Pinch about 1 tablespoon batter and roll it between palms, forming 1-inch ball. Place ball in bowl with sugar and roll to coat then place on light-colored, ungreased baking sheet. Repeat, spacing balls 2 inches apart. Discard leftover sugar. Using bottom of a glass, press to flatten each ball into 1-by-3-inch disks.
Bake cookies 10 minutes.
To make glaze, if desired: While cookies bake, in small bowl, combine confectioners' sugar with lemon juice, mixing until sugar is completely dissolved.
When cookies are done, immediately use spatula to transfer to wire cooling racks. Using tip of knife, spread 1/4 teaspoon glaze on top of each warm cookie. Cool completely.
Note: Can be stored in cookie tin up to 1 week.
Cranberry Cocktail Cravings
If holiday cocktails are on your menu, give guests a twist on a classic with this Cranberry Moscow Mule made with Nemiroff Original Vodka. This premium vodka is bold with a smooth, full-bodied finish that hints of citrus and fruit. Combined with cranberry juice and ginger beer, it's an ideal holiday cocktail. Find more holiday cocktail options at nemiroff.vodka.