Dr. Marta Katalenas challenges parents to educate themselves on the dangers of unpasteurized dairy products before feeding them to their children.
Recently, the American Academy of Pediatrics published an article about consumption of raw milk products. In the article, the AAP recommended that infants, children and pregnant women should not drink raw milk or eat products made with raw milk because they can cause illness or death.
As raw milk products become easier to find in farmer markets, organic food stores and on the Internet, Dr.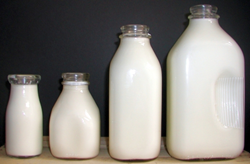 Katalenas urges parents to become educated on the dangers for children who drink raw milk. "Those consuming unpasteurized dairy products do so in an attempt to "go back to nature", disregarding the risk for bacterial infections
like Salmonella, E. Coli O157, Campylobacter, along with viruses and parasites," says Dr. Katalenas.
Almost 200 people have become seriously ill and two people have died since 1998 by eating milk, cheese, yogurt and ice cream that was not pasteurized, according to the Center for Disease Control and Prevention. Infants and young children are especially at risk for getting sick after eating these products and pregnant women are at greater risk of problems such as miscarriage and infection.
Dr. Katalenas recommends that organic food who are interested in consuming raw milk products, get the facts from The Center for Disease Control and Prevention. The CDC has a series of videos of real people sharing their experience after consuming raw milk products.
About Dr. Katalenas
Dr. Marta Katalenas is a board certified pediatrician and owner of the Pediatric Center of Round Rock. She is a public speaker and author of the book "The Step Up Diet: From Scratch… The Quality, Quantity, and Timing Solution to Childhood Obesity", a guide to healthy cooking and eating for busy families.