When you're entertaining a small group, it's fairly easy to ensure everyone enjoys the party. However, a larger group or an eclectic crowd with varied interests can make it harder to be an effective hostess. Planning party zones that cater to specific interests is one savvy solution to this dilemma.
Designating areas of your home for various interests will let guests choose their own party pleasure and take some of the pressure off of making sure everyone has a good time. Your party theme and the occasion may help determine the zones most appropriate for your event, or you can get started with your party zone planning using some of these popular ideas.
Game zone. There's nothing like a little friendly competition to get guests mingling and letting loose. Offer a selection of team-oriented board games for groups of four or more, keeping the focus on lively, interactive games that get guests moving and talking as they act out, draw or brainstorm aloud. Let guests square off as they compete for bragging rights, or spice things up a little and up the ante by offering prizes for the winning teams.
Conversation zone. Catching up with loved ones is among the best parts of a party, so be sure to create cozy and engaging seating areas where small groups can gather to chat. Try to limit background noise in this zone so participants aren't fighting to hear the conversation. If space allows, scatter a few of these zones throughout the party so groups can gather where they feel most comfortable.
Snack and sips zone. Make it easy for guests to indulge in the food and drinks you've prepared, and manage post-party cleanup, by creating designated areas for noshing. If you have an island, add a few barstools, and place extra chairs around the table so no one is left balancing a plate on their lap. Although the kitchen is the natural choice, don't overlook other areas where you may be able to set up temporary tables and chairs to make it easy for guests to partake in all the food and fun.
Quiet zone. Every party needs a quiet spot away from the chaos where guests can retreat and recharge. Offer a comfortable seat and soothing lighting in a part of the house where distractions will be minimal. Take your guests' needs into consideration; you can offer added privacy with a door hanger that lets others know the space is in use to discourage interruptions.
Find more entertaining tips to fit any kind of party at elivingtoday.com.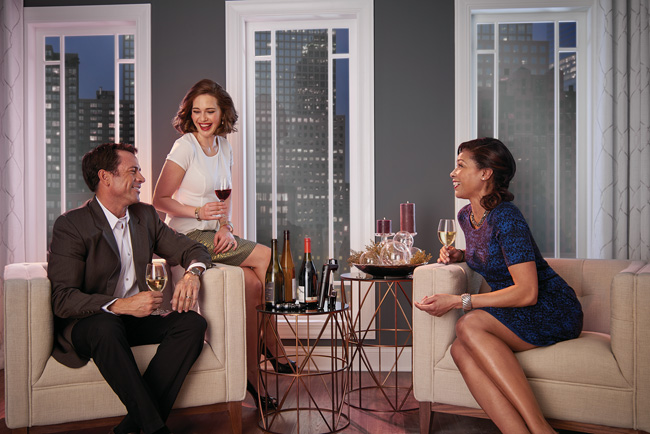 4 Steps For Easy Entertaining
Hosting a large group of family and friends can be overwhelming, especially if entertaining isn't something you do often. No matter the occasion, these tips can help you avoid common party pitfalls so you can keep the focus on having fun.
Offer an assortment. Rather than attempting to plan the menu around a wide range of likes, dislikes, allergies and other considerations, create a menu that satisfies everyone's cravings with a mix of hot and cold dishes in a variety of tastes and textures.
Create a beverage cart. The kitchen is likely to be a hotbed of activity, but setting up a remote beverage cart can help redirect some of that traffic. Stock the cart with an ice bucket and tongs; garnish such as lemons, limes, olives and cherries; and an assortment of glasses. Offer a couple of bottled beers on ice, at least one white and one red wine, and a couple of liquors that work with a wide array of mixers, such as vodka and rum.
Never compromise on wine. Lots of times, guests have wildly different tastes in wine and it can seem impossible to select a couple bottles that everyone will like. If you want to please everyone but worry you'll end up with a stash of partially poured bottles, there is an alternative to pulling all those corks. The Coravin Wine System lets you serve wine without removing the cork, allowing your guests to pour as much or as little wine as they like (you can save the rest or what's left for another day). Using a Coravin System is like having a wine bar in your house. Rather than settling for what is open, everyone can drink whatever they like, even if the entire group has dramatically different tastes. If someone wants to taste lots of different wines, they will have the freedom to do just that. Learn more at coravin.com.
Plan ahead for refills. Clear as much space as possible in the refrigerator for extras so you can easily replenish anything that runs out. Make extra pitchers of punch, and have bowls of popular items ready to replace as needed. For warm items, use the warming feature on your oven to hold dishes at serving temperatures, or simply leave the oven off and contain the precooked dishes' warmth.
(4 people playing board game) – Photo courtesy of Getty Images
SOURCE:
eLivingToday.com