If you're one of the 57 percent of women who believes having an organized closet would make finding what you want easier and faster, there's no time like the present to stop dreaming about having a beautiful and organized closet. Take charge and start the project now.
Having a disorganized closet is a problem for at least one in four women, according a recent ClosetMaid survey. Some women (1 in 10) are even depressed when they open their closet doors. What's more, some research suggests the average American wastes as much as 55 minutes a day (roughly 12 days a year) searching for things they can't find.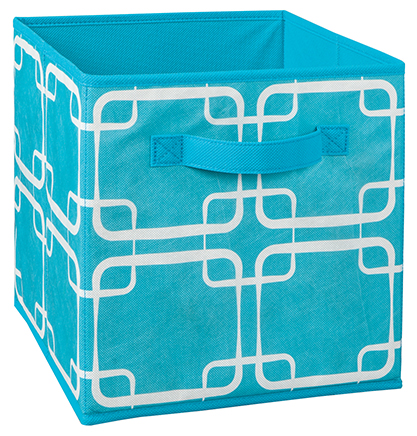 Introducing some organization is a simple way to alleviate these worries. Whether you reside in an apartment in the city or a home in the suburbs, your best starting point is to create a plan of attack. Professional organizer Barbara Reich of Resourceful Consultants offers these tips for getting started:
Assess your needs. Ask questions like: Do you have a walk-in closet or a reach-in? Need to create one within a room? Do you prefer more shelves over hanging space? Is shoe storage important? Do you prefer a flexible system, like wire, that can adapt to your changing needs or do you prefer something with a designer look? Are you a DIYer or do you require professional assistance?

Define your taste and style. Do you prefer modern or traditional? Or are you more eclectic?
Identify the product that works best for your needs and your budget. One option to consider is ClosetMaid SpaceCreations, a designer-inspired, DIY-acquired option that provides customizable storage inside and outside of closets. Available in Classic White or Premier Dark Java, it's easy to install and is extremely versatile with different accessories and options like shoe shelves, drawers and acrylic dividers to provide a completely personalized look. As an added bonus, this storage option can be adapted for a nursery, mudroom or pantry. A handy online design tool or a complimentary professional designer can assist you with the layout and design.
Let the organizing fun begin. Before you restock your new closet, scrutinize your wardrobe and accessories, and get rid of items you won't ever wear or use again.
Once you've got everything neatly in place, enjoy your newfound organization, but be vigilant about keeping your closet in order. Dedicate 15 minutes each week to keep it looking as good as new.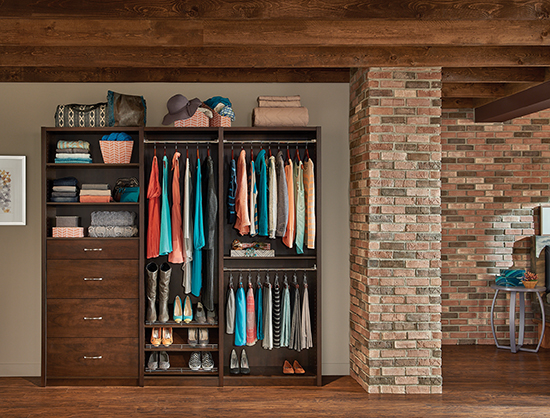 7 Ways to Add Functional Style to Your Closet
Shine the light. A trendy light fixture can add fun and bling while providing adequate lighting to illuminate all the treasures your closet has to offer. Diffused lighting is a good way to chase away shadows and ensure none of your favorite garments and accessories get left in the dark.
Organize by color. When you're ready to hang clothes in your newly designed space, sort garments by style; group dressy tops, casual pants and so on. Then take your organization another step further by hanging like colors together. The streamlined color palette is pleasing to the eye, but it also makes it easier to select the right combinations and avoid overlooking any options.
Hang clothes with care. Give your clothes some TLC and make the switch to high-quality hangers. Not only do uniform hangers make your closet appear more organized, they help keep your wardrobe in tip-top shape by preventing stretching. Slim velvet hangers are optimal for saving space, but if you have the room, a heavier wooden version is even better.
Add some special flair. It's not just the structure that affects the overall mood of your closet. One easy way to add some personal charm is with colorful and patterned fabric drawers. They provide a home to hide and consolidate more personal belongings and add pops of color and style to your shelves.
Make creative use of wall space. If you have some unused wall space, this is the perfect place for a dream board. A simple cork surface is all you need. Add pictures of your favorite outfits so you can remember pairings that made you feel great. You can also use the space for inspiration and add wish list items from magazines or photos of looks you'd like to try.
Dedicate a container for capturing rejects. Avoid hanging on to unwanted items by designating a container to capture clothing destined for donation. When the bin is full, transfer to a cardboard box and drop off at a local charitable organization. A similar approach can be used for items that need repair; when a few items have accumulated, either haul out the sewing machine or head to the nearest seamstress for professional assistance.
Don't forget the floor. While much is made about the wall space, the floor is an important element of your closet, too. For carpeted rooms a rug may be more ornamental, but if you have hardwood floors, an area rug can be a safety feature that keeps you from slipping in your hurry to get dressed and out the door.
Showcase your wardrobe in style with ClosetMaid SpaceCreations.
Find more creative closet solutions at ClosetMaid.com.
SOURCE:
ClosetMaid