There's not much that tastes better during the summer than a meal hot off the grill. If you're in the mood for a delicious backyard dish, try adding versatility to your grilling game with a few simple tips.
Try a new cooking method. If your usual preparation involves a basic flame, you may be surprised by all the different flavors you can evoke just by changing the method. Whether you're using gas or charcoal, switch from standard grilling to smoking over indirect heat. You can also use seasoned wood chips with most grilling methods to build a completely different flavor profile.
Look for non-traditional ways to use your favorite proteins. Instead of the traditional steak or chicken on a kabob, you can create a whole new flavor experience using smoked sausage. For example, Eckrich offers a variety of smoked sausage flavors in traditional ropes and bun-length links, all with just the right blend of seasonings for a rich, savory taste.
Explore new condiments and toppings. Ketchup, mustard and relish may be staples at the condiment station, but there's no reason you can't add a little something extra. Grilled onions, mushrooms and peppers are all simple and delicious ways to add flavor. Or try something entirely new, like this sweet, tangy marmalade made with bacon and onions.
Find more summer grilling ideas at Eckrich.com.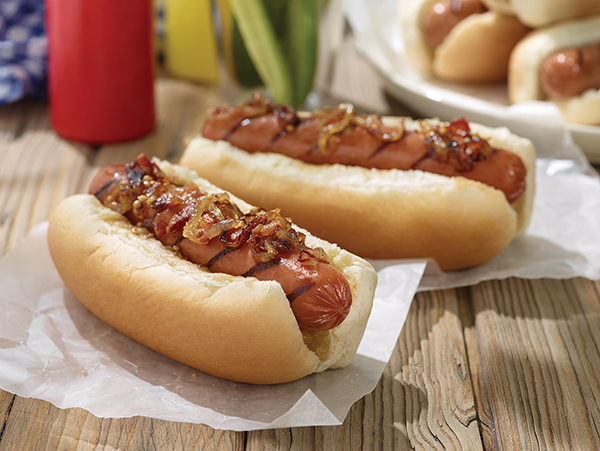 Smoked Sausage Links
Smoked Sausage Links with Bacon and Onion Marmalade
Prep time: 10 minutes
Total time: 1 hour, 10 minutes
Servings: 6
2-3 strips bacon
1 tablespoon mustard seeds
1/2 cup apple cider vinegar
1 1/2 pounds (about 6 onions) Vidalia onions, diced
1/2 cup light brown sugar
1/4 cup cane syrup
1 package Eckrich Smoked Sausage Links (bun-length)
6 hot dog buns
Heat oven to 350° F.
Line baking sheet with parchment paper and lay strips of bacon flat. Cook until crispy, about 20-25 minutes. Chop bacon into small pieces and set aside.
In dry pot over medium heat, toast mustard seeds until slightly browned.
Add bacon, vinegar, onions, brown sugar and cane syrup to pot. Cover, stirring occasionally to prevent burning. Cook about 20 minutes at medium-high heat. Remove pot cover and reduce to medium heat. Cook until liquid is reduced and onions are dark in color, about 50 minutes.
Oil grill and bring to medium heat. Grill sausage 12 minutes, or until heated through.
Place smoked sausage in hot dog bun and cover evenly with marmalade.
Note: Marmalade can be made in advance for easier dinner preparation and can be kept up to 2 weeks in a refrigerator or 3 months in a freezer.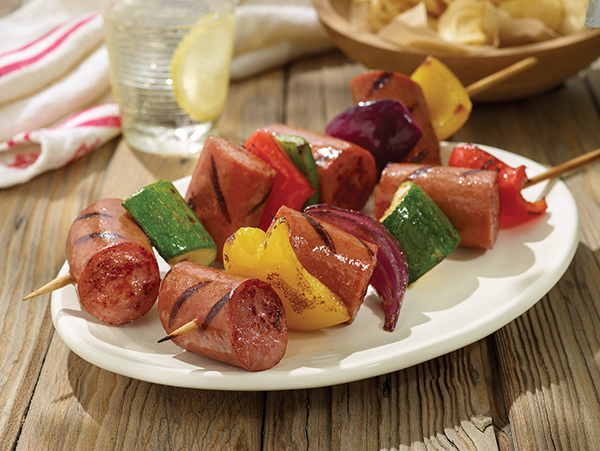 Grilled Kabobs with Smoked Sausage and Veggies
Prep time: 15 minutes
Total time: 25 minutes
Servings: 6
6 wooden skewers
nonstick cooking spray
1 package Eckrich Original Smoked Sausage (rope)
1 medium zucchini
2 large red bell peppers
2 large yellow bell peppers
1 large red onion
Soak skewers in water 1 hour. Spray grill and heat to medium.
Cut smoked sausage diagonally into 1-inch pieces. Slice zucchini, bell peppers and onion into 1/2-inch pieces.
Thread smoked sausage, peppers, zucchini and onion onto skewers.
Grill kabobs until smoked sausage is hot and vegetables are tender, about 5 minutes per side. Remove from grill and serve immediately.
SOURCE:
Eckrich