If you're observing Lent, Friday fish dinners could be in your future, but that's no reason to feel limited by what you can cook. Seafood pairs well with all sorts of flavors – from chili seasoning to lime extract – and bakes quickly on a sheet pan with minimal cleanup.
Follow these simple tips from Dr. Wendy Bazilian, McCormick Health Advisor and Registered Dietitian, to get your family asking for good-for-you proteins like salmon and shrimp all year long:
While lemon is a great complement to seafood, think about pairing with other citrus flavors like orange and lime. Try marinating shrimp in a mixture of lite coconut milk, lime extract, ginger and red pepper.

Add colorful vegetables like zoodles or asparagus to your sheet pan to boost both seafood and vegetable servings. You don't need a spiralizer to make zoodles because many grocery stores offer pre-made zoodles in the produce section.

Keep shrimp in your freezer to pull out for stir fries, pastas or this Coconut Lime Shrimp with Zoodles recipe.
Explore more recipes to enjoy during Lent, spring and beyond at McCormick.com, or look for McCormick Spice on Facebook and Pinterest.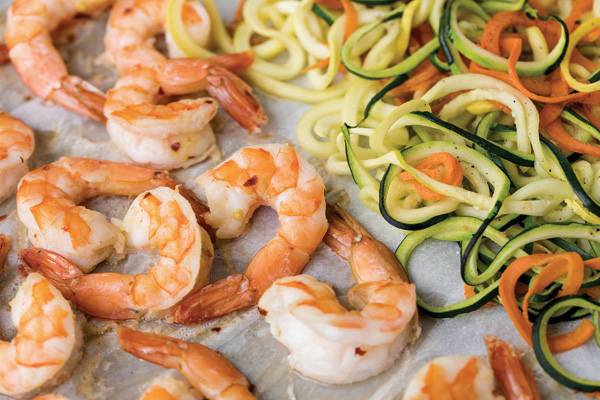 Coconut Lime Shrimp with Zoodles
Prep time: 15 minutes
Cook time: 15 minutes
Servings: 4
1/4 cup Thai Kitchen Coconut Milk (regular or lite)
1 teaspoon McCormick Ground Ginger
1/2 teaspoon McCormick Garlic Powder
1/4 teaspoon McCormick Crushed Red Pepper
1/4 teaspoon McCormick Pure Lime Extract
1 pound large shrimp, peeled and deveined
1 small zucchini, cut into thin noodles with spiralizer
1 medium yellow squash, cut into thin noodles with spiralizer
1 medium carrot, cut into thin noodles with spiralizer
2 tablespoons oil
1/2 teaspoon salt
1/4 teaspoon McCormick Ground Black Pepper
Heat oven to 375 F.
In large, re-sealable plastic bag, mix together coconut milk, ginger, garlic powder, crushed red pepper and lime extract. Add shrimp; turn to coat well.
Refrigerate 15-30 minutes. Remove shrimp from marinade. Discard any remaining marinade. In center of large, shallow, foil-lined baking pan, arrange shrimp in single layer.
In large bowl, toss vegetable noodles and oil. Sprinkle with salt and pepper; toss to coat well. Spread noodles around shrimp in pan.
Bake 10-15 minutes, or until shrimp turn pink and are cooked through and noodles are tender. Serve shrimp over vegetable noodles.
Test kitchen tip: For faster prep, use 4 cups store-bought spiralized vegetable noodles instead of spiralizing them yourself.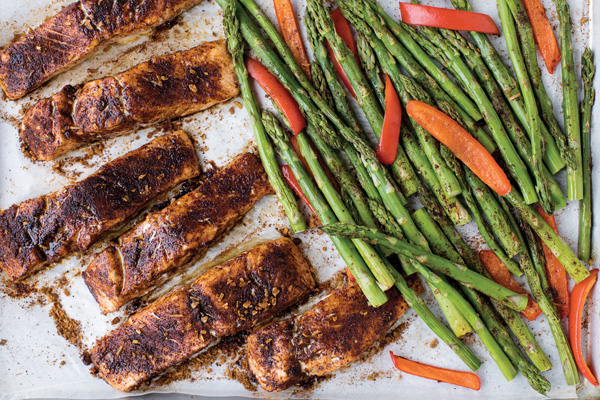 Orange Chili Sheet Pan Salmon
Prep time: 10 minutes
Cook time: 20 minutes
Servings: 8
Nonstick cooking spray
2 tablespoons olive oil
2 teaspoons McCormick Pure Orange Extract
2 pounds salmon fillets, skin removed
1 pound asparagus, ends trimmed
1 medium red bell pepper, cut into strips
1 package McCormick Original Chili Seasoning Mix
2 tablespoons packed brown sugar
Heat oven to 375 F. Spray foil-lined, 13-by-9-inch baking sheet with nonstick cooking spray.
In small bowl, mix together oil and orange extract. Place salmon and vegetables on separate sides of baking sheet. Brush vegetables with 1 teaspoon extract mixture. Brush both sides of salmon with remaining mixture.
In small bowl, mix together seasoning mix and brown sugar. Sprinkle 2 tablespoons seasoning mixture over vegetables. Sprinkle both sides of salmon evenly with remaining seasoning mixture.
Bake 20 minutes, or until fish flakes easily with a fork and vegetables are tender.
SOURCE:
McCormick