When joints ache and you don't move as fast as you used to, it may seem that growing old is anything but graceful. While you can't stop the hands of time, there are ways you can keep your physical and mental well-being in tip-top shape for years to come.
Even if you've spent a lifetime practicing healthy habits, your senior years are no time to allow those practices to fall to the wayside. On the other hand, if you put off quality self-care for later in life, rely on your experience and maturity to know that taking care of yourself is as important as, well, life itself.
Eat balanced meals. It's never too late to begin paying more attention to what you eat. Seniors may be prone to poor eating habits for the sake of convenience or because it's not as much fun cooking for one or two when you once had a full house to feed. Actually, as you age, keeping your weight in check and continuing to fuel your body with essential nutrients is more important than ever.
Keep moving. It's true that aches and pains may keep you from being as spry as you once were, but limiting your movement can actually create a snowball effect that results in even less mobility over time. Muscles that aren't used regularly can weaken and restrict your movement even more, so work with your physician to determine an appropriate amount of activity for your condition.
Mind your mind. When you're in the workforce, or while you're tending to the needs of a growing family, you rely on your brain to power through, probably without even thinking about it. Yet over time, most people experience some degree of cognitive deterioration, partially from basic biology and partially from lack of "exercising" that vital muscle. Keep your mind sharp by communicating regularly with your family and friends, and seek out activities that put your brain to use, such as crossword puzzles or word games.
Be a social butterfly. A common lament of middle-age is the lack of time to nurture friendships. With an empty nest and an open calendar, there's no time like the present to strengthen long-term bonds or seek out new companions who share life experiences and a desire to age with grace. Close connections with friends and family members will not only boost your emotional well-being, they can ensure there are others watching out for you on a regular basis.
Do as you're told. When you're younger, skipping an annual checkup here and there seems like no big deal. As you age, those regular assessments are more important. They serve an important role in identifying potential issues and introducing treatments before big problems arise. Honor your regular medical appointments and heed the advice you're given – including taking any medicines as prescribed.
Find more tips for living healthy as you age at elivingtoday.com.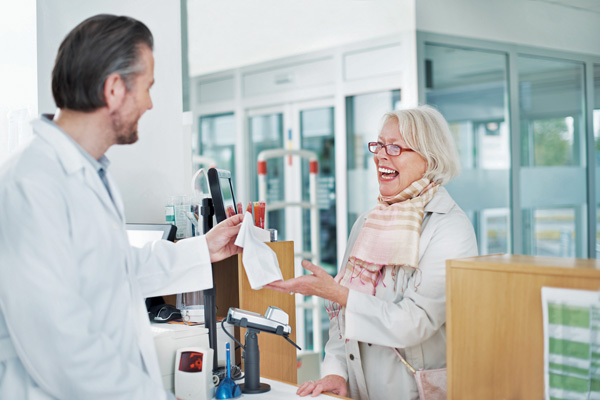 3 Ways Seniors Can Control Prescription Costs
For 55 million Americans enrolled in Medicare, the New Year means any new Medicare Advantage or prescription drug plans, or any changes to your existing plans, take effect. If you signed up for coverage, it's important to understand how your prescription drug costs may be affected.
Even if you did nothing to alter your coverage, some features of your plan may have changed for 2017.
A survey by Walgreens shows that even though prescription drug costs are among the top concerns for Medicare beneficiaries, approximately one out of every five beneficiaries lacks a good understanding of their insurance plan. Roughly the same percentage falsely believes that all pharmacies charge the same copay and one-third of respondents didn't know they can switch pharmacies at any time, including outside of the annual enrollment period. To make the most of your benefits and find potential cost savings for your prescription medications under your Part D coverage, here are three easy steps to get started:
Use a less expensive brand or generic. The brand-name drug your doctor prescribed can do wonders for your symptoms but be worrisome for your budget. Many brand-name drugs have generic or other brand substitutes. First, make sure your doctor considers generic options. If those options aren't available, there may be lower-cost brand-name drugs used to treat the same condition. Ask your pharmacist if you have that option then talk with your doctor to see if switching brands makes sense in your situation.
Verify whether your plan has a preferred pharmacy network. Many prescription drug plans have a preferred pharmacy (preferred cost share) network where you can pay a lower out-of-pocket copay for the exact same drug. Walgreens is in the preferred pharmacy network for many of the largest Medicare sponsors and, effective January 2017, offers copays as low as $0 on generic medications for select plans. Filling a generic medication at a non-preferred pharmacy could cost you $3, $5 or even $10 for the same drug.
Seek Medicare's Extra Help program and other ways to save. Medicare offers an Extra Help program to help people with limited income and resources pay Medicare prescription drug program costs, like premiums, deductibles and coinsurance. Make sure you're taking full advantage of your insurance coverage, which may cover non-prescription items, like vaccinations and certain over-the-counter medications.
Medicare beneficiaries seeking help navigating prescription drug costs can find additional resources and a list of Medicare plan sponsors at walgreens.com/medicare.
Photos courtesy of Getty Images
SOURCE:
eLivingToday.com