When Cpl. Matt Foster left Afghanistan after his tour of duty in 2013, he didn't know whether he would ever see his K-9 partner again.
For nine months, Foster and Sgt. Mick, a black Labrador retriever, lived and worked together keeping the military compound at Camp Leatherneck and the surrounding area in Helmand Province safe from explosive attack.
After being honorably discharged from the Marine Corps, Foster did not give up in his quest to adopt Mick. The 7-year-old Lab had been discharged for medical reasons, and Foster said he lost count of the number of adoption forms he sent attempting to be reunited with his dog.
Ultimately, Foster's quest to reconnect with Mick was successful, and they are together again living in Colorado.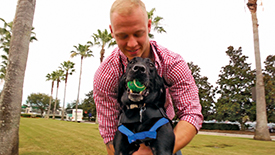 "When I first got Mick back, I was worried that I might not be able to take care of him," he recalled. "After what you go through with your dog in the service and then adopt them afterward, you wouldn't want to say goodbye to your partner because you couldn't afford to take care of him."
Once military and police dogs retire, with no guaranteed pension for their medical care, the burden and cost of care often fall solely on their caregivers. Now an advocate for military dog adoption, Foster has joined The Sage Foundation for Dogs Who Serve and the RIMADYL K-9 Courage program to help other retired military dogs and handlers.
The RIMADYL K-9 Courage Program is a charitable healthcare donation program that, together with The Sage Foundation and National Police Dog Foundation, provides financial and in-kind product donations of $150,000 annually to support the veterinary needs for up to 500 retired police and military K-9s.
Officer without a pension
Despite being considered an officer of his county's sheriff's office, Dano is another retired working dog whose veterinary needs and expenses will mount after retirement.
"Dano is an extraordinary dog," said Senior Deputy Sheriff Danielle Delpit of her K-9 partner. "He's been injured, tazed and involved in two critical incidents."
Recently, Delpit noticed that Dano, now 7 1/2 years old, was slowing down and she reluctantly decided it was time for him to retire. After Dano's retirement, it became Delpit's responsibility to care for him.
"While on active duty, Dano's veterinary care was covered. But now that he is retired, it is up to me," she explained. "Dano has injuries; he has a bad back and I know he will eventually have arthritis. The RIMADYL K-9 Courage Program will give me peace of mind to know I'll have help to give him the healthcare he deserves."
K-9s in service
An estimated 1,775 military dogs are actively working to protect military personnel. Each dog saves as many as 150-200 service men and women by detecting explosives and hidden weapons caches.
The Sage Foundation for Dogs Who Serve (www.sagefoundationfordogs.org) works to promote the welfare of dogs who have faithfully served in wars, police work, crime prevention and rescue. Their work includes education and public awareness, as well as making medical care available for these hero dogs.
Law enforcement dogs are used at the local, county, state and federal levels, and are considered full-fledged police officers. Unlike their human counterparts, however, these officers do not receive a pension.
With a mission of making K-9 teams mission-ready and self-sustaining, the National Police Dog Foundation (www.nationalpolicedogfoundation.org) provides funding for the purchase, training and medical needs for police dogs through retirement.
Learn how you can support retired police and military dogs at www.rimadylk9courage.com.
Subscribe: Enter to Win
We are giving away a $10 gift card every week
Stay up-to-date on the latest pet care advice and information with Pet Owners' Weekly News. Our experts provide useful tips, life hacks, and expert advice for your furry friends. Subscribe now to keep your beloved pets happy and healthy!